Global Business Week offers students an opportunity to apply classroom learning in a different part of the world. For second-year students Victoria Zhang (East Coast) and Johnie Lee (West Coast), this focus on global learning was one of the reasons they came to Wharton.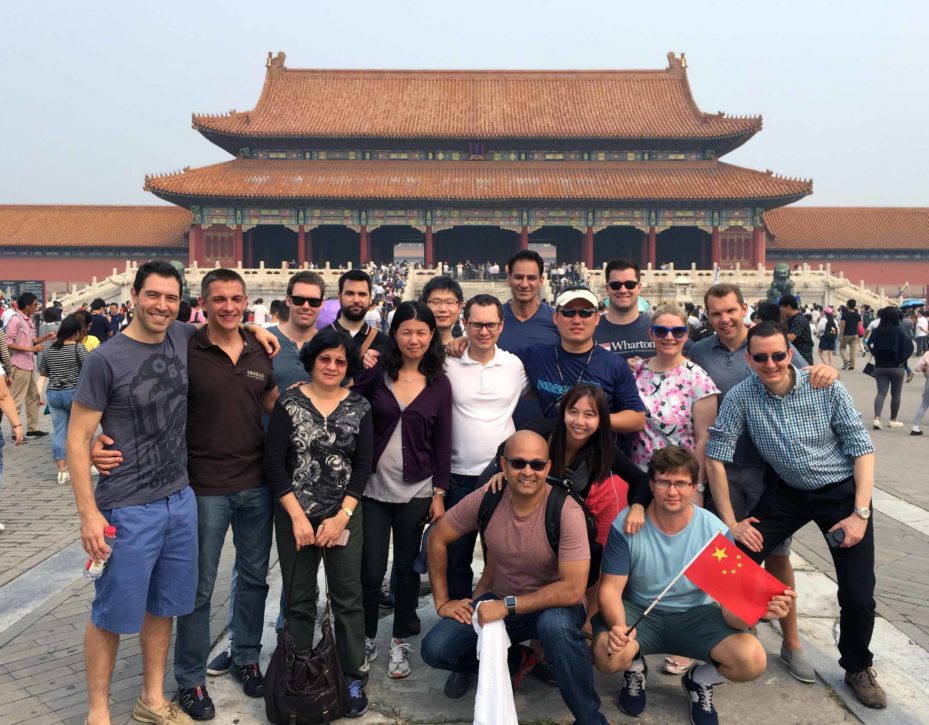 They both chose to spend their Global Business Week in China, one of the fastest growing emerging markets in the world. The trip allowed Victoria, associate director of clinical pathology at URMC, and Johnie, principal engineer at Kash Payment, to experience China's unique business culture and entrepreneurial economy.
Here are four key takeaways on innovation in China they shared from their trip:
1. The speed of innovation has set a fast pace for change in China.
Victoria grew up in China and travels there frequently for conferences and to visit family — and yet every time she goes back, she sees significant changes. "It's so dramatic that I can't keep up with it," she said. Going to China for Global Business Week gave Victoria a chance to show her classmates her home country, but she also wanted to go to learn more about the driving forces behind China's growth and how businesses are developing and innovating.
"It's an exciting time in China now because of the speed of innovation," she said. "There also is a lot of competition, particularly over talent. And while the rate of construction may finally be slowing down, the city (of Beijing) is still expanding its infrastructure. I also saw blue skies during our visit, which was almost unheard of a few years back because of pollution."
2. The American business model doesn't always succeed.
A highlight of the week in Beijing for Johnie was the group's visit to Didi Chuxing, China's largest ride-sharing company. "It was interesting timing, as Uber had recently announced its departure from China and had sold its China operations to Didi. During our visit, we talked to executives about how the company competed – and won – against Uber," he said.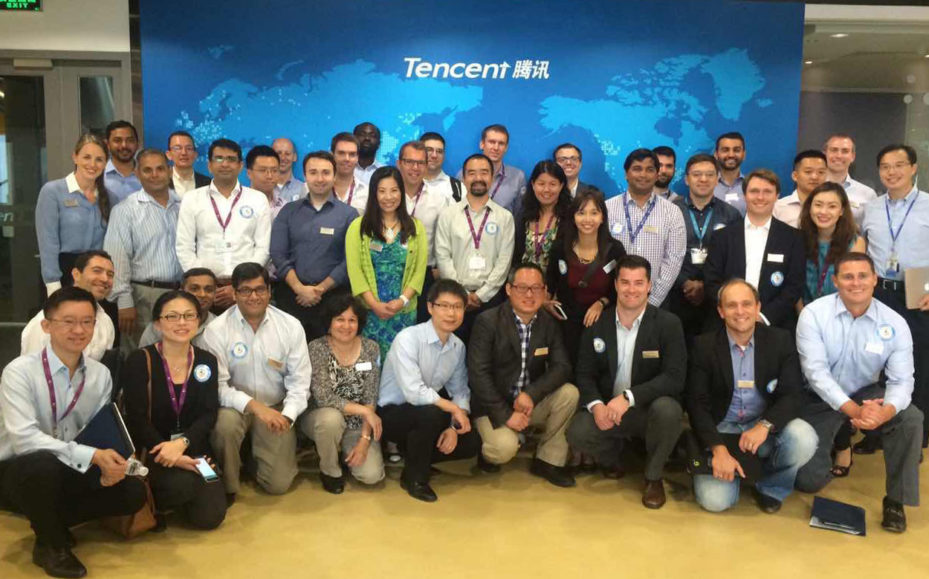 Johnie also enjoyed the visit to Tencent, the creator of China's most popular messaging app WeChat, which boasts more than 750 million daily users. "The app goes beyond messages – people live their life on this app because it's a platform for communication, paying bills, finding and selling products, and more," he said. "One amazing statistic is that the average WeChat user spends over two hours a day on WeChat."
"Being in China, we could see how ingrained it is in society," Johnie said. When he tried to buy a juice with cash at a street market, the vendor quickly told him, "WeChat only!" "After spending several years of my career at Google Wallet trying to increase mobile payment adoption, it was fascinating to observe this mass adoption of WeChat in China. It was also like looking to the future of the messaging app war that is taking place in Silicon Valley," Johnie said.
3. Tech companies in China are starting to make more of global impact and adopt some of the Silicon Valley culture.
A highlight for Victoria was their visit to Cheetah Mobile, a leading developer of mobile tools and internet security in China. Executives discussed global expansion and how 80 percent of the revenue from one of their applications comes from outside China. "That is a very unique revenue structure and shows how much impact Chinese businesses are making on a global level," she said.
With a giant slide and climbing wall, Cheetah's global headquarters in Beijing also bore a striking resemblance to the colorful and imaginative workspaces in Silicon Valley. Johnie noticed the resemblance too. "It was interesting to see companies (in China) starting to look and feel a lot more like Silicon Valley," he said. "At some corporate campuses, we saw things that you would see in Silicon Valley tech companies, like slides and game rooms. There is an energy and passion about building the future."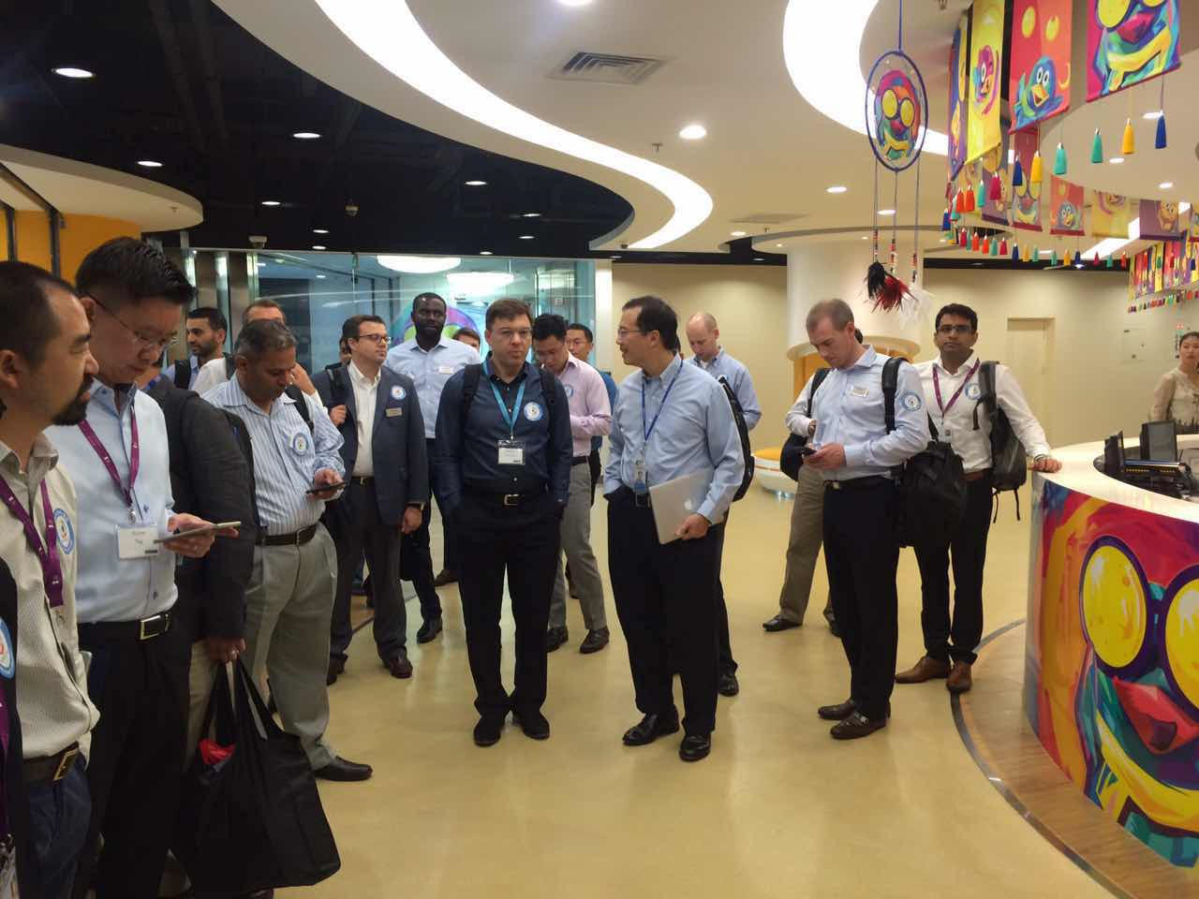 Before this trip, Victoria focused on the differences in business practices between the U.S. and China, but she gained a new perspective after their company visits and interaction with executives. "Academically, it provided a unique opportunity for us to visit a different country with access to high-level business leaders," she said. "Now, I see more similarities like the integration of talent — business executives speak English — and business concepts."
4. Business expansion practices in China sometimes involve a siloed approach.
Johnie said that trip exceeded his expectations and gave him an opportunity to see classroom learning in action. "I had taken a multinational strategy course in the prior term, where we often talked about Chinese case studies. Having the opportunity to see firsthand how things are done made that class all the more enriching."
For instance, Johnie found the business expansion practices in China quite interesting, particularly how companies stayed in their respective focus areas whether it was communications or e-commerce. "We asked why companies don't try to expand into other areas and compete with each other," he said. "The answer was: 'Why would we do that? If we are the leader in search, we focus on search.' That is so different from the U.S., where the tech giants are all treading in the same areas."
Making Connections
The trip wasn't all business — the students also had a chance to see some of the sights in China and to get to know each other better in the process. "At this point in our careers, it's often difficult to find the time to go away with a group of friends. So the week in China was an amazing opportunity to deepen friendships and make new connections," Johnie said.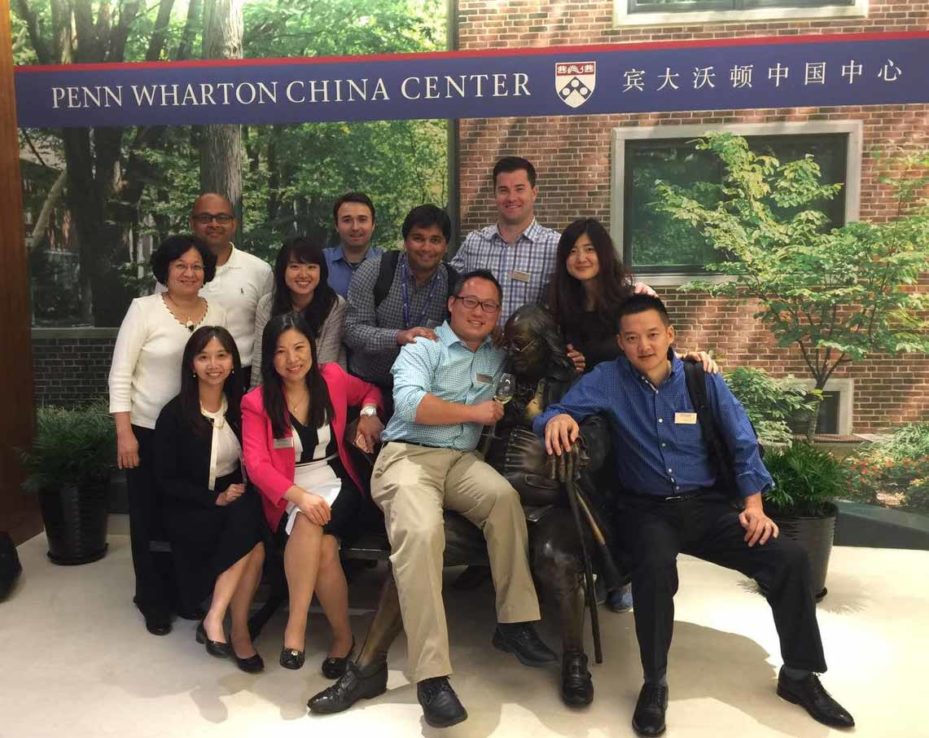 The EMBA Program organized a trip to the Great Wall, and Victoria and a few classmates who also had roots in China served on a social committee that helped to arrange events like visits to Tiananmen Square, the Forbidden City, Summer's Palace, a Kung Fu show, a Chinese opera, and dinners. Victoria enjoyed the chance to get to know her classmates better as well as Wharton EMBA students from the West Coast and INSEAD MBA students.
"Students were seeking out opportunities to connect with people they had not yet met," she said. "It was like instant bonding because everyone wanted to learn about each other while they learned about China."
Posted: March 1, 2017