Our strategic plan guiding us towards greater influence, innovation, and engagement for the advancement of business, education, and society at large.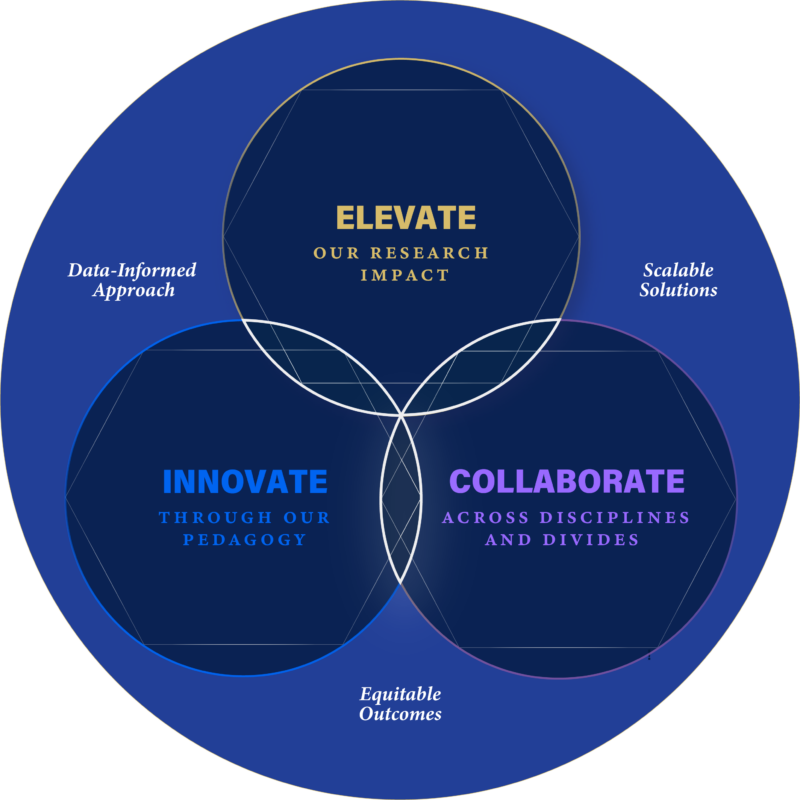 The Vision
Created to serve as the world's first, finest and most influential business school, Wharton is an academic institution full of potential and without equal. Joseph Wharton's founding vision of using analytical expertise to produce well-rounded leaders to drive societal progress remains our ethos. As we continue our quest for positive global impact, the Wharton Way serves as our philosophical North Star – rooted in our history of distinctive contributions while also highlighting our immense potential towards an endless pursuit of excellence.
The Principles
From our genesis, Wharton has been grounded in ideals that guide our efforts. The Wharton Way continues these ideals, referencing them as foundational principles underscoring our many efforts. We honor our analytical roots by applying a data-informed perspective to identify underlying causes and possible answers to pressing questions. We leverage our breadth and depth of knowledge to reimagine possibilities of a local nature, then go further by scaling our solutions for entities and communities far beyond campus. And we lean into our reputation as a leading global institution to unite different perspectives to champion equitable outcomes and far-reaching change.
The Lenses
Our storied history, substantial knowledge, and successful graduates mean Wharton's ability for global impact is limitless. The Wharton Way is how we will direct that limitless potential for meaningful progress. By identifying three areas of focus, or lenses, our strategic plan points our resources, talent and attention in ways best capable of catalyzing change. Through the elevation of our research, we will disseminate new ideas to the business community in places where it is needed most. In keeping with our legacy of pedagogical innovation, we will reinvigorate the learning experiences of our students, reaching K-12 youth to C-suite leaders in the manner that best serve their needs. And from our firm belief in the power of collaboration across divides, we will remove limiting boundaries by convening experts from an array of disciplines to ideate holistic solutions for global success.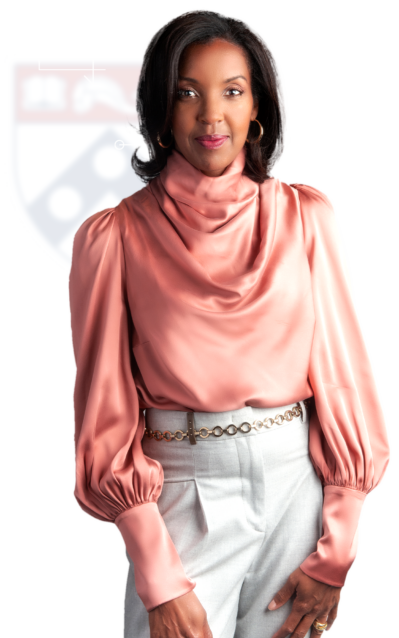 A Letter from Dean Erika James:
"How can Wharton leverage its strengths as a research powerhouse and leadership training ground to benefit more people and answer more questions to advance the world?"
That was the question I found myself asking time and again during the early listening tour in the beginning of my deanship. Upon hearing about the expertise of our faculty and accomplishments of our graduates, it became apparent that Wharton's ability to deliver global impact is limitless. We need only to train our talents and attention on the most pressing topics to drive valuable and lasting change.
The Wharton Way is our philosophical North Star, guiding how Wharton drives greater influence and collective progress in the world. It boldly declares our intention to focus our expertise on issues of critical importance to our students, our faculty, and our society at large.
The Wharton Way is our commitment to wielding our heft for the greater good of people around the globe.
Wharton is an institution full of potential and without equal. We've evolved from educating our first dozen undergraduate students in 1881, to providing the most expansive array of programs to learners ranging from pre-college to the C-suite. Over our 142 years, we earned our substantial reputation for the discovery and deployment of novel, evidence-based knowledge. And we've actively sought out interdisciplinary experts and partners to convene on—and provide answers to—timely, worldwide issues.
Simply put, our heritage of preeminence is what propels the Wharton Way—and our endless pursuit of excellence. 
With academic foci ranging from legal studies to finance, ethics to operations, and analytics to healthcare management, our faculty produces more research-backed solutions than any other business school. Technology has opened up new opportunities to expand access to a Wharton education. And our partners play a critical role in fueling our contributions, bringing perspectives that expand our thinking and outcomes. But I am challenging Wharton not to rest on the laurels of our innumerable successes.
We must disseminate Wharton insights beyond the academy and our campuses. New ideas and concepts emanating from our institution will have the biggest and most immediate impact in the real world. The Wharton Way is our pledge to ensure more people and organizations can access our scholarship to navigate day-to-day decisions.
We must leverage our storied history to lead innovation in business education. As we equip current and future decision-makers with the knowledge to affect policy, economies, and industry, we are also thinking about ways to reinvigorate traditional pedagogy. Innovation not only increases Wharton's reach, but also evolves the very ethos of how we engage with our students. The Wharton Way takes our pioneering learning approach and promises continued progress for the next generation.
Finally, we must bridge the divides that hold us back from holistic progress. Whether real or manufactured, certain boundaries limit our ability to collaborate effectively on problems that affect us all. Wharton's existence within the University of Pennsylvania and our many relationships mean we can activate the broader business community as partners on a quest for collective advancement. The Wharton Way illuminates our plan to expand collaborations with industry, nonprofits, and other academic institutions to further generate groundbreaking ideas.
Taken together, these foci bolster Joseph Wharton's founding mission to advance society by creating wealth and economic opportunity for all people.
The Wharton Way directs our steps by highlighting the priorities we will pursue for maximum impact. We are confident this approach will empower more people to succeed—and lead—wherever they are on their educational and professional journeys.
No institution is better poised or committed to uncovering the insights that drive perpetual progress. I look forward to living out the Wharton Way in practice, together. I invite you to join us.
Sincerely,
Erika H. James
Reliance Professor of Management and Private Enterprise
The Wharton School of the University of Pennsylvania


Wharton's legacy as an analytical research powerhouse is undisputed within academic circles. So how can we leverage that reputation to ask and answer the questions most salient to the broader business community? Elevating our research impact means wielding our influence to benefit more people in more places for more outcomes.
OUR SUCCESS WILL ALLOW US TO:


As the original authors of business education, Wharton is best equipped to lead innovation for the business school of the future. From our unmatched programs for high school youth to our unparalleled experiences for global executives, our knowledge of what's next lets us teach for the needs of tomorrow. Innovating through our pedagogy means being the catalyst for perpetual progress in academia, business, and beyond. 
OUR SUCCESS WILL ALLOW US TO:


Throughout our 140+ year legacy of success, Wharton has pursued outcomes where the sum can be greater than its parts. From this perspective, we've built an array of multi-faceted partnerships spanning academic backgrounds and industry foci. Collaborating across disciplines and divides means serving as the primary convener of thought leaders to share perspectives, tackle challenges, and produce solutions that benefit us all.
OUR SUCCESS WILL ALLOW US TO: