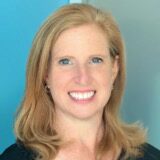 Alison Matejczyk
Interim Chief Advancement Officer and Senior Executive Director of Development
Contact »
Alison Matejczyk is the Interim Chief Advancement Officer and Senior Executive Director of Development at the Wharton School of the University of Pennsylvania.  In this capacity, Alison leads a development team of over thirty professionals who engage Wharton constituents in meaningful relationships with the School and secure philanthropic commitments to ensure Wharton's prominence as the thought leader in global business education.  In addition, she serves as chief counsel in designing, prioritizing, and executing External Affairs fundraising and engagement priorities. She provides leadership in developing strategies to optimize fundraising and alumni relations results across External Affairs, the Wharton School, and the University of Pennsylvania.
Alison served as Executive Director of External Affairs from 2008 to 2014, overseeing the division's operations and accountable for strategic planning and analysis of the division's activities. She was Director of Wharton Corporate and Foundation Relations from 2002 to 2008, leading a team in developing and expanding collaborative relationships between the School and institutions representing a multitude of different industries and philanthropic interests.  Before assuming the Director position in December 2002, she led the Wharton Partnership, the School's corporate and foundation affiliates program.
Prior to coming to the University of Pennsylvania in 2000, Alison was a Regional Manager of Major Gifts at Bucknell University where she worked with alumni and friends who support the University's many activities through philanthropic contributions.
Alison holds a B.A. from Hollins University in Roanoke, Virginia and an M.A. from Indiana University Bloomington in the History of Art.  She serves on the development committee of the Morris Arboretum in Philadelphia, is President of the Wissahickon Educational Opportunities Foundation (WEOF), and is an active Girl Scout volunteer leader.