The Path to London
What are your plans for the summer? It was second semester, and this was the only question people would ask. At the time, I could only give the highly eloquent answer of "something really cool that I like."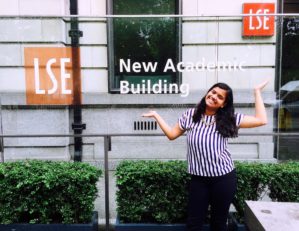 Never would I have expected to have the best summer of my life, and it wouldn't have been possible without funding through the Wharton Global Research Internship Program (GRIP).
As a Joseph Wharton Scholar and after taking Research Design Fundamentals and Applications in Business with Professor Schrand, I decided that I wanted to learn more about academia and business research. Because of my prior exposure to cancer research in high school, my idea of research meant being alone in a lab for 12 hours a day. I couldn't have been happier to find out that business research was nowhere close.
After a couple of emails with the help of my mentor, Professor Diana Robertson, my summer plans were set. I would be heading to The London School of Economics and Political Science (LSE) to work in the Department of Management under Dr. Lourdes Sosa. However, while business has always been a large part of my life, so has baking. Food and food culture fascinated me and I wanted to delve further into my culinary proficiency beyond cook books. After I was accepted to Le Cordon Bleu, there was no turning back. I was London bound.
Learning About British Business and Baking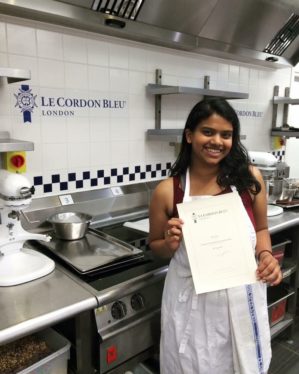 I started digging deeper into Dr. Sosa's research in the gamification of education and R&D in the anti-cancer market, starting to pose questions of my own I wanted to understand. My official role as a research assistant was to grasp a better understanding of the anti-cancer market from both a medical and business perspective. When I came to London, Dr. Sosa asked me if I would like to assist her with the Innovation Management class for Executive Summer School students. Although I wasn't sure how I would be beneficial to people twice my age, I was excited to help in any way possible. Turns out a millennial has a lot to teach a group of Baby Boomers and Generation X about the integration and growth of technology. My familiarity and comfort with technology, being raised in the Silicon Valley, proved to be a valuable asset to the class. I was able to answer all of the student's technical questions as well as share information about current trends. Dr. Sosa and I agreed that it would be mutually beneficial for me to continue assisting throughout LSE Summer School. I helped the students understand resource-based views of a firm like Facebook while also being exposed to the teaching side of academia.
In the morning, I was a teaching assistant for LSE Summer School and by the afternoon turned into an anti-neoplastic market researcher. By night, I was in the kitchen at Le Cordon Bleu London, baking pastries with three different kinds of dough and plenty of butter and sugar. I felt like the Batman of education.
Research in Action

My research took me hunting through the UK for old manuscripts stashed away in the closed stacks of collections. Beyond traveling to Oxford and Cambridge, I explored the beautiful libraries within the city of London itself. I spent weeks in the reading room of the Wellcome Collection and the British Library, worked in the stacks of the University College of London and King's College London medical libraries, and listened to professors from around the world present their research at the London Business School (including Wharton's very own Martine Haas!). Hidden amongst Parliament Square and Shoreditch, I had found a secret London that I never wanted to leave.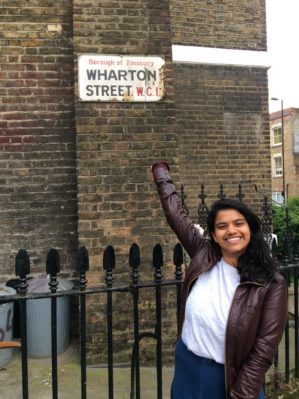 If you're even slightly curious about research, I suggest you give it a shot. Research has taught me how crucial business is in every aspect of life. From the kitchen to the classroom, I have yet to find a place where business isn't applicable. You can literally do research in any field of your choice. Not only is it a great way to dive deep into a topic you're passionate about, but it also allows you to explore the world and immerse yourself in different cultures.
I'm so glad that I decided to pursue research this summer through the generous GRIP grant and plan on continuing my research throughout the academic year.
–Savi Joshi
Posted: February 2, 2017