Wharton Spring '21 Semester Plans


WEMBA
This page was last updated on November 2, 2020 @ 2:00pm
Program Dean Announcements
Update from Vice Dean Peggy Bishop Lane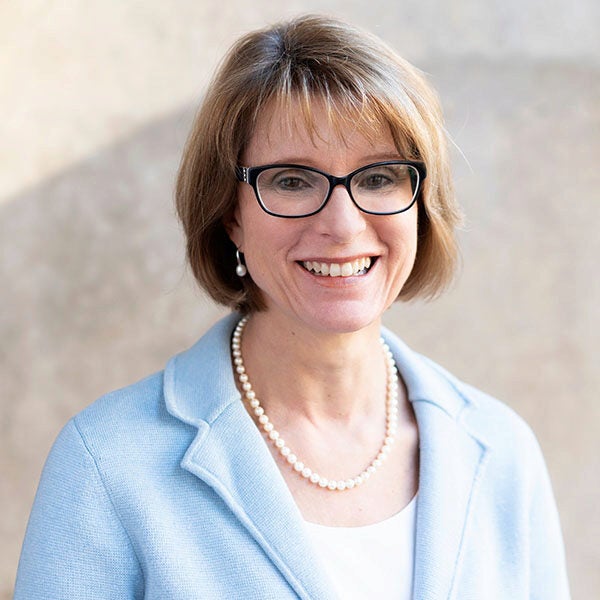 Dear WEMBA students,
In a follow up to Dean James' and President Gutmann's emails, I write to provide the MBA Program for Executives plans for a hybrid in-person format for the Spring semester. Many of you have heard aspects of these scenarios as part of our data gathering student surveys and town halls. Details surrounding these plans are below, as well as on the newly launched Wharton Spring 2021 Planning website and in MyWharton.
Curricular Planning
In an effort to begin bringing students back to our campuses in the spring, the MBA Program for Executives is proposing a "blended hybrid" model. The model features two distinct elements:
Low Density Weekend Model: The first approach is a hybrid model that has a portion of the students on campus each weekend.  The final percentage will depend on course enrollments, as well as the number of students who know they will not return to campus in the spring term under any circumstances. Based on current inputs, we expect between 1/3 and 1/2 of the students to be present on each campus on a given weekend. This will be applicable to first- and second-year students. We will determine the percentage that will allow us to remain under 25 people in a classroom and maintain social distancing through the duration of the day.
Block Week Model: The second approach is a Block Week model, which provides a 1/2 credit unit elective course in a 3–4 day period mid-week. This option is for 2nd year students only. Enrollment will be limited to 24 students plus a professor. We are currently planning for four block week courses to be offered in the January to March time frame, with two offerings in Philadelphia and two offerings in San Francisco. Our next step is to identify exact dates and courses to be offered, which will happen over the coming month to six weeks. Should we see high demand and be able to secure additional Block Week opportunities, we will look to offer those later in the spring term.
The Low Density Hybrid and Block Week models can exist simultaneously. Should conditions change such that we cannot have students traveling to and from campus regularly, we may be able to implement only the Block Week scenario, allowing 2nd year students the opportunity to take a course on campus in their last official term. Of course, there remains a possibility that the virus' impact may intensify in a way that requires us to suspend in-person classes and return to an online-only scenario, but that does not preclude us from reintroducing the Block Week or Low Density Hybrid approaches if conditions improve later in the term.
Along with these curricular delivery details, here are other program specifics as we know them at this time:
Global Travel
The University recently determined that there will be no global travel programs in the spring semester.  Thus, we will focus our attempts at a Global Business Week travel option for Class 45 in the June 2021 period. Alternatives to the GBW will be offered in the spring semester for Class 45. We will continue to make you aware of those options.
Health and Safety
At the forefront of these plans is the health and safety of our students, staff, and faculty. You can find details on safety protocols and answers to many of your questions in the University message and on the FAQs section of both the WEMBA and Wharton-wide spring planning sites.
With our dual campus operations and students commuting to campus for each session, there is added complexity for our program to administer the mandatory testing for students attending in-person classes. However, students should know we are committed to providing testing capabilities at both locations as part of our return to campus planning and will communicate any additional WEMBA-specific testing protocols and policies in the coming weeks.
Tuition and Fees
Tuition will be adjusted for the room and board costs that you are not expected to consume. Room and board adjustments will depend on the frequency with which you will be on campus, so is a function of both your individual preference to attend in person and our determination of the proportion of students on campus each weekend. We will communicate tuition amounts to you as soon as these factors are known.
Global Business Week costs will be deducted from tuition and fees for Class 45 students. If we are able to organize a Global Business Week in June 2021, students who decide to attend will be charged the amount of the tuition reduction.
Exact details about tuition and fees, including any fee adjustments by the University, will be communicated as soon as they are determined.
Ongoing Communications
The messaging of the last few days should provide you with more visibility into, and clarity on, our intended spring plans. Please stay up to date on details and decisions by checking MyWharton regularly and referencing the Wharton's Spring 2021 Planning website. A Frequently Asked Questions (FAQ) section is available on both locations. Both will be updated as information becomes known.
Throughout our planning process, our priority, in addition to your health and safety, is to create opportunities for you to engage with each other and build connections with the broader WEMBA and Wharton communities.
We look forward to your return to campus!
Important Community Updates
The MBA Program for Executives is proposing a "blended hybrid" model for the spring. The model features two distinct elements: a hybrid model (for both first- and second- years) and a Block Week model (available only to second-years). The models can exist simultaneously.
With global travel programs suspended school-wide in the spring, we will focus our attempts at a Global Business Week travel option for Class 45 in the June 2021 period. Alternatives to the GBW will be offered in the spring semester for Class 45.
Once students are able to declare their intended preferences for attending in-person classes, tuition will be adjusted for each student to rectify both the Room and Board costs that you are not expected to consume and the canceled global travel. Global Business Week costs will be deducted from tuition and fees for Class 45 students.
The MBA Program for Executives (WEMBA) is pursuing a hybrid model which would have students in-person every other weekend session or every third weekend session. For the other sessions, students would participate through Zoom. On in-person days, students would go through required testing and screening to enter the building, would agree to be socially distanced, wear masks, and avoid eating and drinking during any classes. Dining and breaks would also be socially distanced, with most dining occurring at the hotel. The hybrid model may include or be substituted with a Block Week model, whereby 24 students would attend a class for 3-4 days mid-week to complete a half-credit unit course. The same testing, behavioral compliance, and social distancing will be required during a Block Week.
Grading/Exam Policies
Grading and Exam policies may be found in the Resource Guide under "Grading System." The Resource Guide may be found under "Files" in MyWharton.  Changes in the grading system due to the pandemic are: a) a temporary elimination of the maximum CMGPA (Class Mean GPA) and b) no required LTs (Lowest Ten Percent) indicators in any course. Minimum academic standards are based only on "F" grades per the Resource Guide.
Whether in person or online, Wharton students are held to the highest academic standards. See the Ethics Code in the Resource Guide.
Honors requirements for the Class of 2022 are not changed from those stated in the Resource Guide. Due to the expanded P/F options in Spring and Summer 2020, the Class of 2021 honors requirements were adjusted in Summer 2020 as follows:
Eligibility for Director's List each term requires that the student take at least 2.0 graded credit units of Wharton courses during Terms 4, 5, and 6.

Eligibility for Palmer Scholar or Graduation with Honors requires that the student take at least 6.0 graded credit units of Wharton courses during Terms 4, 5, and 6.
Remote Classroom Guidelines
Virtual Experience
Be on time. It will be customary to wait a minute or two to start any session. Please sign in before the class/event starts so it can get started on time.
Mute your mic, but not your camera. The speaker does need your non-verbal feedback to be able to "read the room."
Be respectful. It is essential to keep in mind the feelings and opinions of others, even if they differ from your own. If you wouldn't say it to someone's face, don't say it online either.
Be aware of strong language, all caps, and exclamation points. It is easy for written text to be misread and misunderstood.
Be careful with humor and sarcasm. You shouldn't avoid being funny. Part of the class experience is getting to know each other. Most of our faculty have a great sense of humor. Make sure that it is clear you are being funny and not being rude. Emoticons and smileys can be helpful when conveying humor or sarcasm so that it is read correctly. Just remember to keep the smiley faces away from academic papers.
Grammar and spelling matter. In an educational setting (even online) however, keep it formal. Your written communication should be professional and reflect the proper writing style.
Cite your sources. Whenever you are sharing an idea that originated from someone else (even if it is not word for word), it is good practice to cite that source. This applies to discussion forums too. If you read a great thought in your text, share it, but be sure you let your audience know where you saw it first.
Don't post or share (even privately) inappropriate material. Enough said there. Nothing is truly private online.
Be forgiving. Try to be understanding of others when they struggle with written communication. It is very different than simply talking to a person face-to-face.
Course Breakdown & Registration Process
Registration for elective courses will take place through the standard process and guided by your Class Manager, with an ability to indicate if you want to take a course remotely or in-person. Change in attendance status can be made, but only in advance of a weekend. 
Cross-coast registration may only be done remotely.
Registration for core courses is done automatically, by section. Flexible core choices will be made via your Class Manager. 
Registration for MBA courses will occur after the end of the add period for MBA students later in January. After determining what course you would like to take, there is a form you complete and get the professor to approve. You then bring the form to your class manager who forwards to the MBA Program Office to see if there is space in the course and if so, will register you.
For-credit Travel Based Courses
The University of Pennsylvania has determined that there will be no travel for global programs during the Spring semester. Thus our focus for any for-credit Global Business Week opportunities will be on June 2021. If you do not wish to wait until  June to finish your global requirement and thus graduate in August, you may fulfill it in other ways prior to May.
To provide alternative ways to meet the global education requirement for the program, we will continue to develop Global Virtual Courses and other virtual options both with the Global Initiatives program and for WEMBA only. In addition, we will hope to be able to arrange domestic travel as a means to study international business issues later in the spring if permitted.
Prioritized Events/Activities
Celebratory events and unique activities are an important part of the spring semester. Some of these will be equally impressive in a remote format; others we are planning to hold in person.
The events and activities we hope to hold in-person this spring are:
Graduation for the Class of 2021

Capstone for the Class of 2021

Leadership Workshops during in-person weekends and Block Weeks
Those events that we will continue to plan for remotely are:
Other Leadership workshops

Prominent Speakers
Career Conversations
Alumni Orientation
Start-up Challenge
Executive Coaching
Entrepreneurship Day
Themed speakers series
School-Wide Safety Protocols

Student Testing
All undergraduates will be required to be tested for COVID-19 twice per week upon their return to campus. All graduate and professional students engaged in research activities on campus or living in the area once per week.
In addition to mandatory COVID-19 testing, all undergraduate and graduate students are required to get a flu shot before returning to campus. Proof of immunization will be needed to access campus.
Faculty & Staff Testing
All faculty, staff, and post-docs who are on campus for four or more hours each week interacting with other community members, or whose activities on campus involve teaching, or who are regularly in an aggregate setting of ten or more people in a single shared space on campus will be required to complete screening testing. All other faculty, staff, and post-docs engaged in any on-campus activities are encouraged to participate in screening testing.
PennOpen Pass
Everyone who comes to campus (faculty, staff, and students) will be required to enroll in PennOpen Pass. PennOpen Pass is a daily symptom checker and exposure reporting system designed to reduce the risk of COVID-19 spreading within the Penn community. Daily symptom checks or exposure reporting on PennOpen Pass are required of those who are on campus.

Facilities Access & Guidelines
In-Person Classroom Facilities
At this time, we expect the following Wharton buildings to be utilized for the spring semester:
Jon Huntsman Hall
Steinberg Hall-Dietrich Hall
Wharton Academic Research Building
Vance Hall
Wharton San Francisco
Building Cleaning Protocols
All Penn buildings are maintained, cleansed, and disinfected in accordance with CDC guidelines. Hospital Grade Disinfectant is utilized when disinfecting buildings daily, and the schools have implemented a fluorescent marking system that allows us to verify cleaning techniques. In addition, Wharton has multiple hand sanitizing stations through the facilities (not just in restrooms) and wipe stations strategically located between classrooms for individuals to access and to wipe down surfaces.

Student Compact & Governance
Penn Student Compact
All Penn students agree to adhere to the guidelines detailed in the Penn Student Conduct Compact. The updated Compact includes 4 distinct categories of governance: Health & Wellness, Campus Movement, Travel and Guests, and Social Life and Recreation.
The Compact outlines protocols for all Penn students, regardless of where they are living during the Spring 2021 semester. As always, the university is closely monitoring public health guidance and will communicate updates to the Compact as needed.
Frequently Asked Questions
Will there be a virtual option for all classes?
Yes, you will have the option to attend classes virtually throughout the spring semester.
Will all classes still be recorded?
All classes will be recorded. Faculty will make recordings available on the course Canvas site.
What will grading policies be for the spring term?
Grading policies will be consistent with those in the Resource Guide, which you can find under Files in MyWharton. However, for the Spring 2021 term there will be no maximum grade point average for a course and no LTs will be given.
What is the pass/fail policy for the spring term?
We will continue to keep the standard pass/fail policies. Students may only take up to 1cu of elective courses on a P/F basis each term and the standard deadlines apply.
Can I still participate in full-time MBA classes?
Second year students may take up to 1CU of MBA electives in the Spring 2021 term. Enrollment is dependent upon professor approval and space availability in the class after the MBA "add" period. See your class manager if you would like to explore this option.
How would an in-person weekend in which faculty are remote be managed? Can I meet in a classroom with the other students on campus?
Yes, students can meet on campus. Students will need to bring their laptops and view the professor via Zoom. This will help faculty see the students if each has their own camera.
What will the experience look like if we return to campus in the spring?
Entering Campus
Green screen from PennPass each day on campus
Temperature screening at entrance to building
Masks worn at all times, except while eating
Social distancing practiced at all times, including while eating
Eating and drinking only in designated locations
Classroom
No more than 25 individuals per classroom
Students will need a laptop or tablet to participate via Zoom if the professor is remote or if they wish to see remote classmates.
Classrooms will be cleaned/have cleaning supplies & hand sanitizer available
Students will sit at least 6 feet apart in the classroom
Breaks and Dining
There will be designated eating spaces in Huntsman Hall and Vance Hall for breaks and lunch. Students and staff will need to be socially distanced at all times.
Breakfast and Dinner will be served at the Inn at Penn.
Will I be at a disadvantage if I cannot attend class in-person?
No. All classes will still be offered remotely. Classes will also be recorded as in the fall semester.
What are the attendance policies for the spring? How are they different for in-person classes?
The attendance policy will remain the same. You are expected to attend every class whether virtual or in person. If you are supposed to be in-person, but must attend virtually, we will ask you to inform us in advance so that we can make appropriate adjustments to classroom, dining, and hotel space.
If I am taking a class in-person, but do not feel well/have concerning symptoms, what should I do?
Do not come to campus. If you are able, participate virtually and let your class manager know why you are not attending in person. You should contact your medical provider if you are feeling ill. You can also contact Student Health Services at 215-746-3535 to speak to the 24/7 on-call provider. You do not need to have Penn Student Health Insurance to speak to a Student Health Services provider.
Is it possible that we will return to a fully virtual experience? What would happen?
The program will operate as it is currently. It has not been expressly determined what would cause WEMBA, Wharton, or Penn to move to a fully remote semester, but such situations might be a) positive COVID tests in the student body, staff, faculty, or vendors; b) increases in cases locally and in large feeder locations; c) student violations of the Penn Compact; d) University or governmental regulation changes.
Can I request a Leave of Absence for the spring semester?
Yes. However, re-enrolling with another WEMBA class will be based upon space availability.
How can students safely gather to socialize? Will Wharton be providing students with opportunities to socialize and network?
We expect students to comply with the Student Campus Compact and local, state, and federal guidelines. Note that the City of Philadelphia and San Francisco prohibit gatherings of more than 25 people.
WEMBA will provide dining space in the evening. We expect there will be time to socialize during dinner and are investigating ways to enhance and extend the dinner hour to provide entertainment. If you have ideas, please pass them on to your class manager!
What if the behavior of another student makes me feel unsafe or may be putting the community at risk?
Students should feel empowered to respectfully discuss the issue with the classmate. In the event that they do not, or a peer-to-peer conversation is ineffective, students can advise WEMBA staff or building security. If the situation occurs in class, students may also alert the professor.
Will all career sessions still be virtual throughout the spring term?
Yes. The Career Team has found these to be extremely effective, allow for more events to be shared across coasts, and allow for higher-level speakers to present.